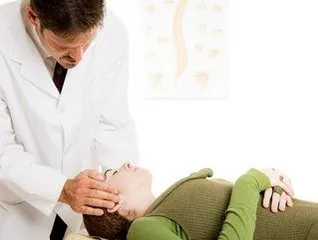 Chiropractic is a regulated health profession, recognized by statute in all Canadian provinces. Almost 2 million patients in Ontario reply on chiropractic care every year to help them live healthy, active lives. Chiropractors are one of the only five classes of health care professionals that are able to use the title Doctor, with its accompanying rights and obligations.
Chiropractors are extensively educated in the prevention, evaluation, diagnosis and treatment of musculoskeletal and neurological disorders. They treat injuries in all areas including the head, neck, shoulder, mid back, low back, pelvis, elbow, wrist, hands, hip, knee, ankle and foot.
WHAT IS AN ADJUSTMENT?
Adjustments, or manipulation as they're sometimes referred to, are the minor movement of vertebrae in the spine. The adjustment is a skilled technique which takes years to master. The objective of this movement is to realign vertebrae that have moved out of place for a number of reasons ranging from normal daily activity to trauma such as a car accident.

When these vertebrae are out of place, it has an overall systemic effect from muscular to the central nervous system. Without proper alignment and flow of all nerves and systems in the body from the brain, we can't function at our peak.

An adjustment is often a pressure from the chiropractor utilizing the hands or an instrument to move a vertebrae back into place. This happens with a quick movement and is often without discomfort. You may hear a noise that sounds like you're cracking your knuckles referred to as joint cavitation. It is the release of gases such as oxygen and nitrogen from the joint.

Overall, adjustments help relieve pain and restore normal functioning to the spine, joints and supporting structures of the body - so you can enjoy your everyday activities again as quickly as possible. The procedure is normally painless and is applied with low force but high velocity which makes it one of the safest modalities for treatment of musculoskeletal conditions.
DO CHIROPRACTORS ONLY ADJUST THE JOINTS/SPINE?
Chiropractors are experts in spinal manipulation but adjustments are only one of the many tools chiropractors use to treat their patients. Other treatment modalities used by the chiropractic doctor includes but not limited to: mobilization, soft tissue therapy, exercise therapy, ergonomic advice, ultrasound therapy, Interferential current therapy, Electrical muscle stimulation, phsyical rehabiliation, laser therapy, acupuncture, etc.
DO ALL CHIROPRACTIC PATIENTS GET ADJUSTED?
No, Not all patients get adjusted and not during all visits. Depending on the findings in the history and physical examination, your doctor decides if chiropractic spinal manipulation is one of the many treatment tools required to treat your condition. After the assessment during the report of findings you are advised of all the side effects and benefits of the recommended treatment tools. Ultimately is is the patient's decision to either consent to the proposed treatment plan or request a change.
Spinal manipulation is one of the safest modalities used to treat musculoskeletal injuries, but is is not the only modality. All chiropractic doctors have extensive training to determine when spinal manipulation is indicated and when it is contraindicated.
DOES CHIROPRACTIC CARE REQUIRE X-RAYS
X-rays are not always required but are necessary in some cases for proper diagnosis. Your chiropractor will inform you after the history and physical examination if x-ray results are needed to confirm a diagnosis or rule out a major pathology. Chiropractors receive 360 hours of education in radiology covering a full range of topics including the positions used to obtain an x-ray for each area of the body and x-ray interpretation and reporting protocols. Chiropractors have the required training to be granted the right to request x-rays if required, take their own x-rays and interpret the radiographs.
WHEN SHOULD YOU SEE A CHIROPRACTOR?
The following are the few reasons patients see their chiropractors regularly:
- For preventative care to avoid injuries from happening
- Decrease the risk and progression of spinal/joint degenration (Osteoarthritis)
- Chronic pain management
- Acute injury management due to work, accident, sports, pregnancy, regular daily tasks or even stress.
- Wellness care to maintain overall health and wellbeing
- Postural correction, weight loss, orthotics, compression stockings, etc.
DOES CHIROPRACTIC TREATMENT REQUIRE MD REFERRAL?
No. Chiropractors are primary healthcare professionals and do not need a referral to see patients.
CHIROPRACTIC CAN:
- Improve your mobility in your neck, shoulders, elbows, wrists, back, hips, knees and ankles
- Correct and improve your posture to prevent future injuires and pain
- Manage your pain from headaches, neck and back pain
- Prevent work releated repetitive sprain/strain and joint injuries
- Enhance athletic performance
- Relieve pregnancy related back pain
- Correct gait and foot abnormalities

- Screen for childhood scoliosis
- Support your children's musculoskeletal system while they are going through their growth cycles